Kairos: A Course For All Seasons
Kairos for the third time!
Fourteen eager participants including three couples and an expectant mother were among what made the Kairos Course, held at SMI centre, 18-23 June 2017 special. Max Chismon, SMI Director, facilitated the course together with 3 others from SMI.
Third time participant, Pastor Lathur from a church in Davao City, Philippines, attended this time, alongside five other members of his pastoral team, including his wife Pastor Leah. "I am attending Kairos for the third time because I felt that there is something the Lord wants to do, in terms of cross cultural Mission, in the church I pastor. This time, I have a team of leaders taking the course with me. Back in our church, we will train other leaders and empower members for cross cultural ministry. We will start a mission movement for nations. By doing so, We will also be encouraging other churches in the area to involve in mission," he said.
Explaining the course's highlight for his life, Pastor Lathur said it consistently imparted a world view and understanding that Christian life involves being a blessing for people including those from other nations and tribes. "Since I am the senior pastor, I want to impart the message to leaders and convince other members of the church to use the opportunity for cross cultural mission. I want to help members find their expression and place in the cross cultural mission to fulfill the calling ," he said, adding that with people from various nations already in the city, the believers in Davao do not need to leave family and jobs to engage in missions. With willingness and commitment for cross cultural mission, teachers, doctors, students and other professionals in the church can do a lot, reaching people from other nations.
Asked if his church would have challenges to embrace his vision for cross cultural mission, Pastor Lathur said, "The challenge is a matter of re-prioritization.  We will have to stop doing some of the things we do now and give priority to cross cultural mission. This will help us to get resources to undertake cross cultural mission.  We will discuss [this] at the leadership meetings at various levels and try to let go [of] some of the activities in favor of mission. "
In his answer to what will be different in his church in the coming five years, due to cross cultural mission, Pastor Lathur said he is not sure if his church would keep on growing at its current rate in terms of membership. The  12 year-old church with 2500 members used to  be strongly missional but mostly on same culture mission. "Cross cultural mission may slow down the growth in terms of numbers. Ministering cross culturally demands more patience. But I am sure that in five years, the church will be more mature and effective in mission both same and cross culture," he said.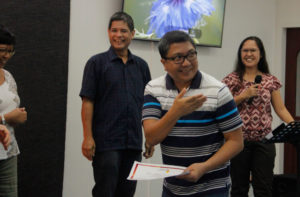 Pastor Lathur's wish for the body of Christ is that it understands and fully embraces the great commission; that it involves mission both same and cross culture. The body of Christ needs to be open and learn new things. It needs to have the courage and maturity to live for the Great commission.
Pastor Leah on her part said, "The highlights of the Kairos Course for me were the growth point sharing sessions.  They were powerful discussions and interactions that brought out the best learning in each chapter.  Another highlight was the devotions which were brief and simple yet rich, insightful and inspiring."
From a "selfish" to "all nations" perspective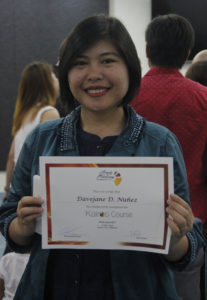 Davejane 27, was one of the participants of the Kairos course held at the SMI Center in Butuan City, Philippines, 18-23 June 2017.
Dave is a volunteer campus missionary working with the Philippine Student Alliance Lay Movement, Inc. (PSALM)

SMI interviewed Dave on her impressions of the course. The interview goes as follows:
How does the course influence your world view and personal life?
My worldview has changed from a "selfish" perspective to [an] "all nations" perspective. Another highlight is how the Lord orchestrated everything from the time of creation to Abraham, to the times of Jesus, to the early church and then into this present age as well as His heart for all nations. The Abrahamic Covenant in Genesis 12:1-3 sums it all [up]. Every believing child of God is blessed to become a blessing to all nations.
What has this course motivated you to do going forward?
This course had a great impact on my life; the way I see things' the way I pray' the way I handle my life. I am not living just for my own, I am living to fulfill the purpose of God in my life, and that includes reaching the unreached. It motivated me to see the bigger picture, that a great task awaits me – to take  part in God's Kingdom agenda that involves all nations.
What opportunities do you see around you to be a blessing to others?
I will start igniting the fire for God's mission in my circles of influence. I will keenly evaluate my life and be intentional in how I live it, on how I invest the amount of time I give to things as well as on management of the things the Lord entrusted to me.
Dave also said that she will be zealously praying for all nations and financially supporting people and organizations involved in missions. " I will also be equipping my circle of influence and mobilizing them to do God's work wherever they are. The mission must be done from everywhere to everywhere," she said.