Have you ever felt a little embarrassed when asked what your ministry is? Your lower voice and mutter out of the side of your mouth, "mobilizer"!
I think this embarrassment is widespread among mobilizers! Mainly because a scan through a concordance doesn't pick it up! Is our ministry truly Biblical or are we 'para-church' with no real Biblical moorings?
Personally, I believe our ministry is VERY Biblical and one of the most needed ministries in the Church today! In fact, I would go as far as to say that the generally slow progress being made in reaching the world's remaining least reached peoples is directly related to both the lack of formal recognition of this ministry and the struggle mobilizers have with the legitimacy issue.
Mobilizers exercise a prophetic ministry.
Jesus, when he ascended to heaven gave ministry gifts to His Church (Eph 4:11-13). These ministries were for the purpose of building up the Church, enabling it to do all that Jesus had instructed. This related to both 'being' (unity and maturity) and 'doing' (works of service). One of the five ministries given was the ministry of a prophet. I would like to suggest that mobilizers fit into the prophetic category of ministry gifts!
The Old Testament provides us with the clearest understanding of a prophet's ministry. Contrary to popular belief, the main ministry of the prophet was not in predicting future events but it was to 'bring God's people back to God – back to a place of obedience, to a place of worship and service.'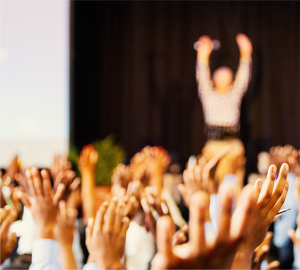 God's people had a propensity towards disobedience fueled by a distorted fascination to be like the nations round about them. The prophets were sent by God to bring His chosen people back to Himself and back to fulfilling their unique calling as a chosen people of God. "Return to me," was an all too common cry coming from the lips of the prophets! (Isa 44:22, Jer 3:1, Neh 1:9 Joel 2:12, Zac 3:1, Mal 3:7)
Listen to God speaking through his prophet Ezekiel, "Therefore say to the house of Israel, 'This is what the Sovereign LORD says: It is not for your sake, house of Israel, that I am going to do these things, but for the sake of my holy name, which you have profaned among the nations where you have gone. (23) I will show the holiness of my great name, which has been profaned among the nations, the name you have profaned among them. Then the nations will know that I am the LORD, declares the Sovereign LORD, when I am proved holy through you before their eyes.'" (Eze 36:22-23)
The Great Commission, which Jesus gave to the Church, defines our existence, as the chosen people of God, on planet earth!
God, who reconciled us to himself through Christ and gave us the ministry of reconciliation — that God was reconciling the world to himself in Christ, not counting men's sins against them. And he has committed to us the message of reconciliation. "We are therefore Christ's ambassadors, as though God were making his appeal through us. We implore you on Christ's behalf: Be reconciled to God." (2Co 5:18-20)
The ministry of the mobilizer, like that of a prophet, is focused on reconciling God's people to God's purpose, as Paul was doing in the above passage!
We passionately proclaim this message! We explain the idea of 'world' in the context of biblically defined nations. We 'distill' this message further by distinguishing between reached and unreached peoples. We do research to help identify where the world's remaining unreached are located. We conduct awareness seminars, produce teaching resources, conduct training programs – the list goes on!
We are mobilizers – prophets, entreating, imploring, pleading even begging God's people to be reconciled to God, to true worship expressed in full obedience to His clearly revealed purpose.
Are you a mobilizer? Then you are a prophet – or at the very least your God-given ministry fits snuggly into the category of the prophetic! The next time someone asks what your ministry is, hold your head up high, chest out and look them squarely in the eye and say: "I am a MOBILIZER!"