SMI Board Meets
The Simply Mobilizing International Board held its annual meeting at the Center in mid-November.  The quorum was made up of Ian Calo, Chair; James Quisquirin, Vice Chair; Sandy Eckleberry, Raymond Valdez, Louella Yu, Lecille Garcia, SM Global Development Coordinator; and Max Chismon, International Director. Peter McDougall and Luke Chong were unable to attend the meeting this year and sent their regrets.
The Board Members received an update on the SM Vision 2020 from the International Director as well as other Center staff, including developments resulting from the Global Development Consultation in April.  The 2017 Financial Report highlighted God's grace and faithfulness as SMI expects to finish the year with a small surplus.  The Proposed Budget for 2018, which was approved by the Board, expressed the hope for the expansion and strengthening of God's work through SMI in a number of Global Regions as well as in better positioning the Center as a service provider to the global SM family.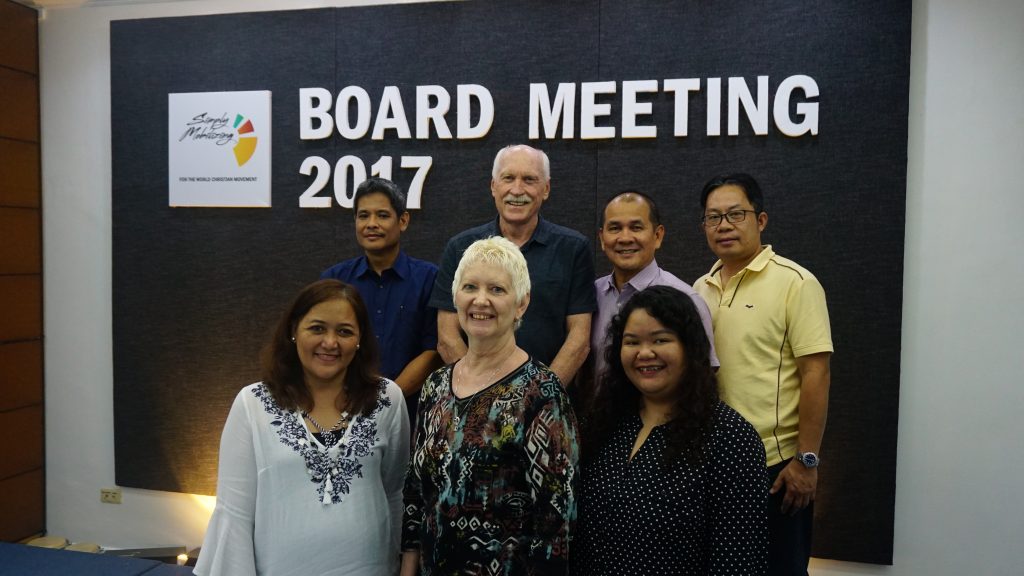 The full-day meeting also provided the opportunity for the board members to interact with SMI Center staff as well as an opportunity for us to hear from two of them about their journey in serving as SMI board members.
Raymond, a banker by profession and a member of the facilitators' training team for the National Capital Region (Philippines), said that it has been an exciting experience for him to be involved in setting-up the legal structures, operational and financial systems, policies and procedures to grow and expand the Simply Mobilizing movement. He added: "I always consider board meetings at the SMI Center as a time of hearing from the Lord about the plans and direction that He has predestined for the mobilizers to pursue."
Sandy, a cross-cultural worker from the US who also serves on the Davao regional training committee, recalled that she joined the board because she believes in the vision – "mobilizing the whole Body of Christ for our Great Commission responsibility." In serving the board, she has enjoyed the interaction with like-minded mobilizers. She also said that she especially enjoys the director's report during the board meeting.