Europe & Latin America Embrace Growing Online
Geof GuntonMarch 2021
2020 was a year of many firsts for SM. It was the year of trialing SM courses and programs online. Despite incredible challenges, almost every global region trialed online courses or seminars, and many countries embraced the new video-conferencing opportunities.
South East Asia, South Asia, Europe, Eurasia, MENA, East Africa, North America and Latin America all ran courses and seminars with participants and facilitators from several countries. At the beginning of last year, no one would have predicted this happening. Our abilities to traverse traditional boundaries has been a game-changer, creating new opportunities as well as new challenges.
Two global regions stand out for the way that they have embraced this new season: Europe and Latin America.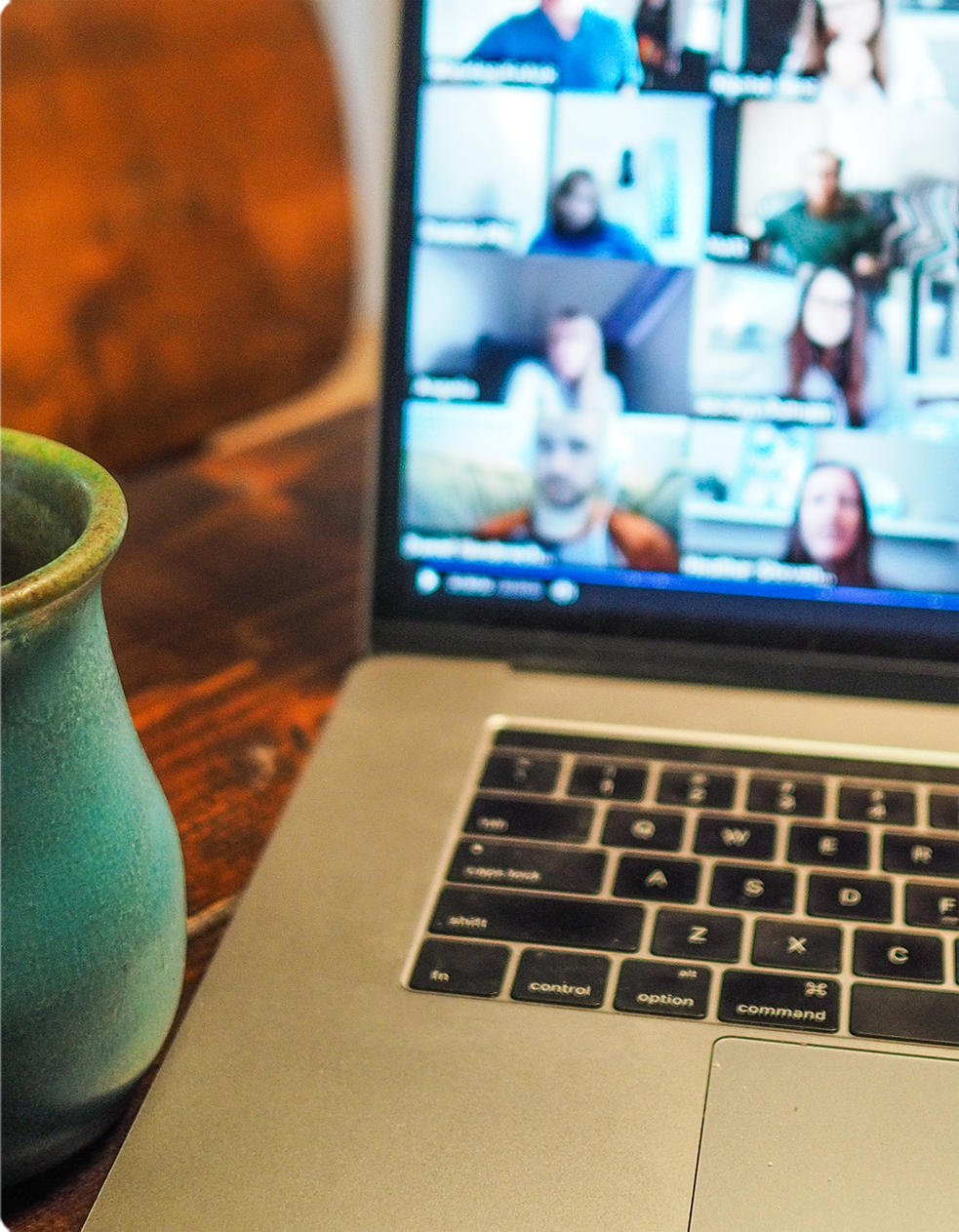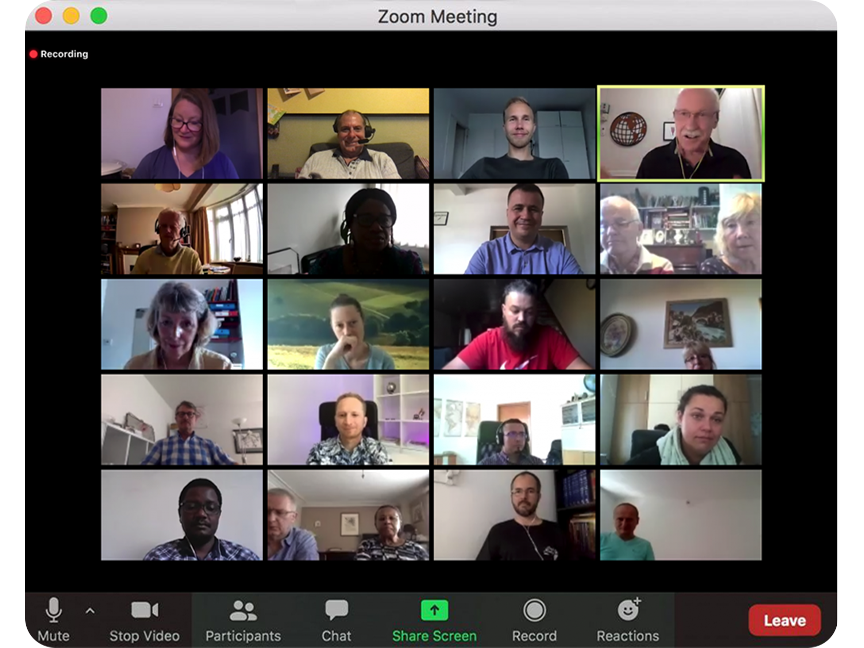 Europe
Europe has a two-decade heritage with Simply Mobilizing, with the United Kingdom having their first course (Condensed World Mission Course) in 2001, and Germany in 2004. Linda Harding has done a tremendous job in helping individual countries to grow, and to foster a sense of their regional identity.
Despite their rich heritage and numerous regional gatherings, this has been a slow process. One of Europe's greatest challenges is that almost every country speaks a different language. At their Europe conference in 2019, they officially recognized the formation of a European Forum and a European Global Region Team (GRT), which is composed of six coordinators who each have the responsibility for serving (overseeing) the growth of specific countries.
These teams met together again just as COVID-19 began taking hold of Europe. With the teams still in the early stages of development, COVID-19 could have thwarted their desire to support the growth of SM in Europe. This, however, did not happen. Europe's Forum is now functional, and meets regularly online. The GRT is also functional, and meets online monthly.
In August 2020, this GRT organized a great online three-hour gathering, and about 70 leaders joined that historic event. This event marked the beginning of their new season of moving forward together online. Since then, the GRT has worked well as a team and delivered several online courses, seminars and training: TUS, the Interface seminar and Interface ToM (Training of Mobilizers) – all in November.
As a result of running Mobi 101 online last month, they now have a regional Mobi group. These have all been great GRT initiatives. Yet, better still, the GRT has (and is) modeling international teamwork–something we value so much in SM. It is exciting to recognize how much the COVID-19 challenges have now contributed to their growth.
Latin America
The work in Latin America began as a European initiative with the introduction of Portuguese Kairos into Brazil in 2007, and Linda Harding overseeing the start of the work in Venezuela in 2009. The region only started expanding to other countries from 2013, once Spanish Kairos began to be piloted.
With the exception of Brazil, all current countries are Spanish-speaking, and this has greatly helped in developing a regional identity. Relatively inexperienced facilitators gained their experience in launch courses in other Latin American countries, and by 2018 when they had their inaugural Latin American conference, most of our teams felt well-connected with other countries of the region. The Latin American forum was formed at that conference, but it was not until 2019 that they began functioning as a forum. In their 2019 forum gathering, they decided that their next forum gathering would be at our international conference in Thailand in 2020.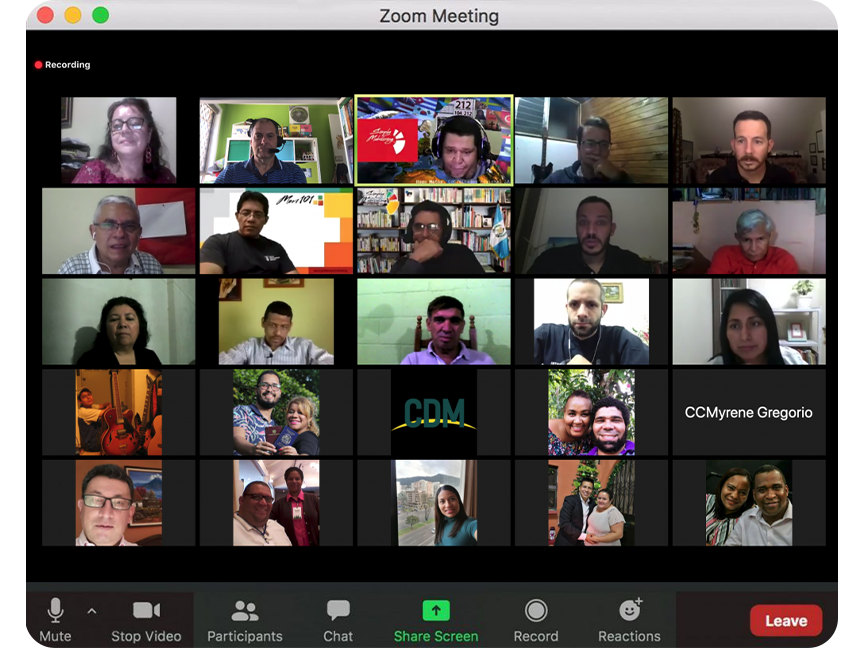 However, due to COVID-19, the conference was postponed, and so the forum did not meet as planned. Many of their great plans were thwarted when COVID-19 began taking hold in the region. Plans to launch SM in several new countries were also halted.
But the launch into Costa Rica was the exception. It happened in March, just prior to grand-scale lockdowns. God's timing was perfect. Costa Rica was one of the first Latin American countries to embrace the opportunities for delivering courses and seminars online, and they opened their online courses and seminars to other countries. They also played a major role in assisting the New Nations Coordination Team from Dominican Republic to launch SM in Panama.
Before August 2020, only a few Latin American countries had conducted online courses as most HFs were hesitant to move in this direction. This changed after September 2020, when the GRT ran an amazing Zoom workshop and Mobi101. With about 70 leaders attending these historic events, they marked the beginning of their new season of moving forward together online.
This was followed by two online Kairos course, jointly hosted by seven different NCTs/NNCTs. Online courses and training have directly resulted in SM being launched in four new countries (Bolivia, Cuba, Panama and Puerto Rico) as well as being relaunched in El Salvador.
The region now has 16 countries at various stages of growth. The GRT now consists of five coordinators, each of whom have different team responsibilities. They have successfully transitioned from occasional meetings to monthly online meetings. The region's international teamwork and collaboration is a great example to us all. Though plans were changed as a result of the Covid challenges, online courses, training, seminars and meetings have allowed the region to work across country boundaries to grow SM in ways that we never expected.
We praise God that our GRTs in Europe and Latin America are leading their regions well. Please pray for our many teams in Europe and Latin America, and for their current initiatives. Pray for our other global regions as well. God has blessed us with really great leaders, and they too are doing a great job in leading their regions.