SM Europe Global Forum Ends on a Fresh Note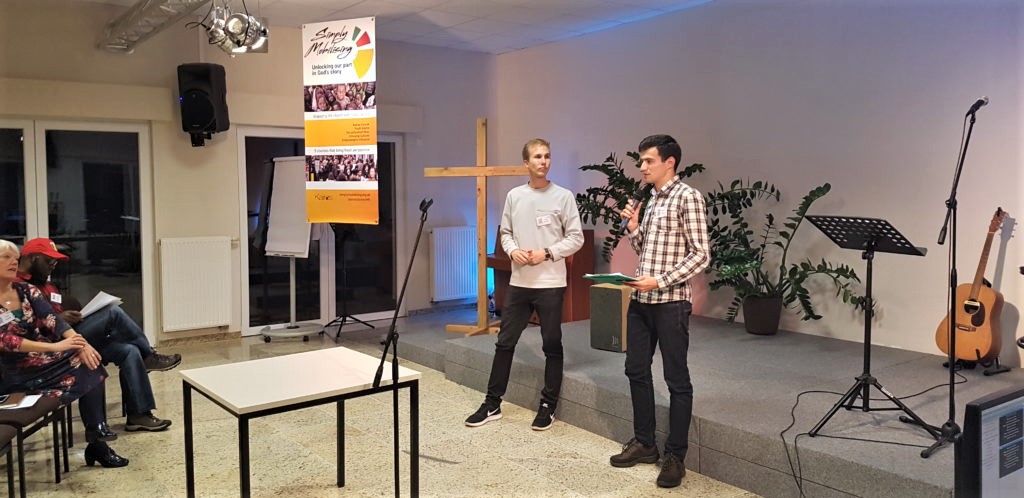 SM Europe Global Forum Ends on a Fresh Note
Simply Mobilizing (SM) mobilizers from across 12 European countries gathered at Globe Mission Center in Hamminkeln, Germany from 13th to 16th October.
This first SM Europe Global Forum was called for and shaped by our youth mobilizers – a new generation are picking up the baton and running with it. With 45 participants ranging from 14 to 70+, all ages were well represented. Age is no barrier when it comes to working together to mobilize the church!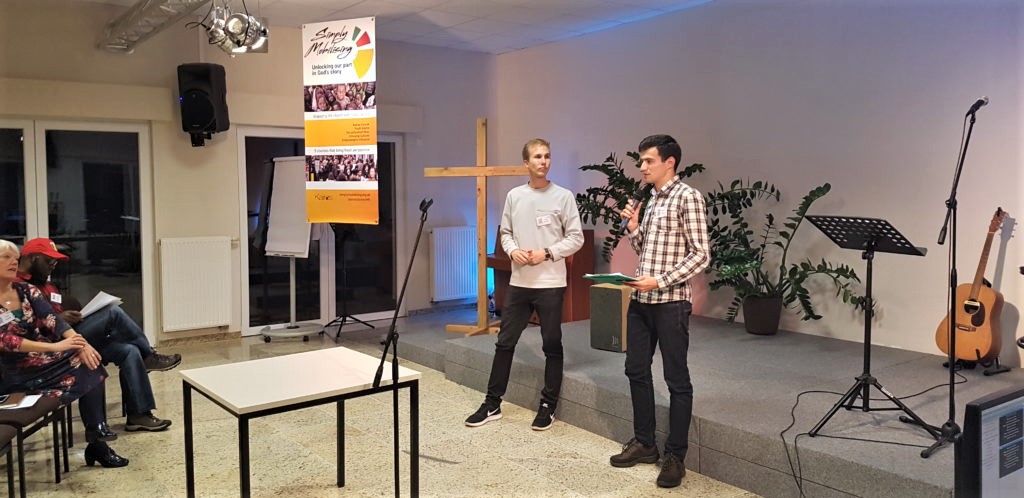 Timo  from Finland and Robert from Romania led the opening session.
One highlight of the weekend was the acting out of the parable of the workers in the vineyard (Matthew 20:1-16). We were reminded that the vineyard owner went out again and again through the day to hire workers. In the same way, we are called as different generations to work together and stand together. A new generation is rising up to take their place alongside those who have carried the mobilizing message in Europe these past 17 years.
Country Reports
At the beginning of each plenary session we heard from each country.
Encouragements included:
New products introduced in Finland, UK and Romania (including the first Mobi 101)
Romanians running courses in Romania and across diaspora churches in 9 countries
Sweden and Bulgaria ready to set up National Coordination Teams.
Kairos Hungary has been so effective that almost all the initial mobilizers (facilitators and HFs) have now left for the mission field!
Challenges mentioned:
Getting churches on board with the SM message and participants onto courses
Translation
Forum participants also spent time on one on one talks and group discussions.
Inspiration
On the first evening we were inspired by Linda Harding's sharing of the SM Europe journey – tracking the finger of God from her first encounter with Kairos course in 1999 in Japan, which, as she puts it, "turned her inside out and upside down". Then in 2000, seeing and hearing the impact of Kairos in the Philippines, all Linda could think of was Europe and its numerous people groups. The key to reaching them is the mobilization of God's people. A year later the first European course was held in UK, then on to Germany, Romania, Albania … following as God opened up 'Kairos opportunities'. Linda Harding serves as link person and adviser for Europe.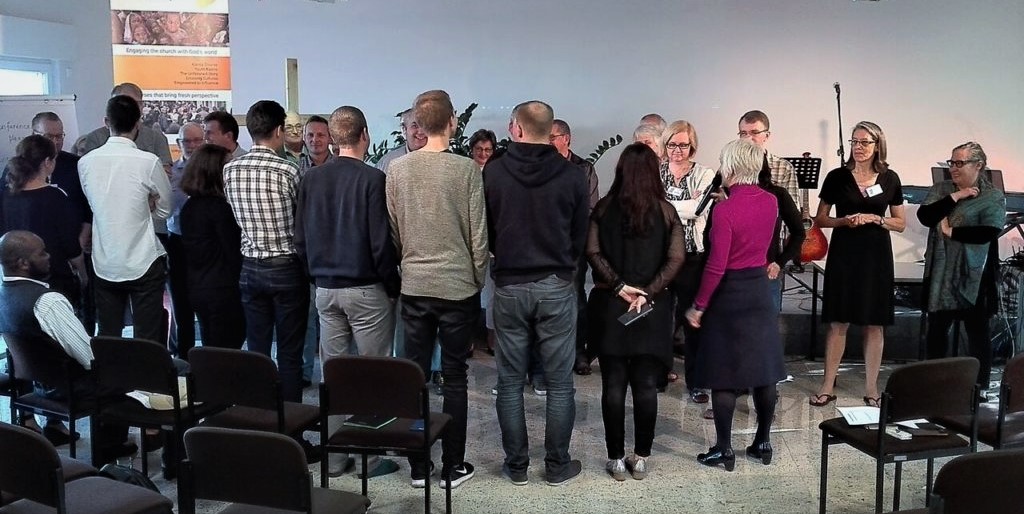 Prayer time among the 3 generations of mobilizers in Europe.
SMI International Director Max Chismon, in a pre-recorded message, spoke on the Saturday evening of how globalization provides a context for the task of world evangelization to be completed. First, every believer must recognize they are on mission with God. And so we have Simply Mobilizing, with its call to mobilize the whole body of Christ. God is raising up mobilizers to be a prophetic voice, calling people back to His purposes. New mobilizing products have been created to help prepare people for mission with God.
Following on from Max's message and what she had shared the previous evening, Linda, in a moving and symbolic gesture, laid her coat on the table and invited us to come pick up a corner of the mantle she has carried 17 years for Europe.
A Training Opportunity
A major focus of the weekend was on training and upskilling mobilizers to use the new products. The first training session focused on understanding what we mean by Mobiology. We were reminded that for SM to become a movement we as mobilizers must grapple with and understand the message and its relevance to the church.  We must "eat this word" – so that it becomes part of us and who we are.
The new products were introduced: multiple tools for different situations – each one presented by a mobilizer who had already used that course.  This was followed by the formal training required to run The Unfinished Story and Empowered to Influence. We are happy to say that many more mobilizers are now ready to run these courses across Europe. (Crossing Cultures can be run by a Kairos or Youth Kairos facilitator without further formal training).
Youth Kairos (YK) is already underway with its own training programme, ably led in Europe by Timo Raassina from Finland. A session was allocated for YK facilitators and HFs to get together and compare notes.
Then there was Mobi 101 – our first training programme specifically for mobilizers. In a day we 'experienced' Mobi 101 and did the training required to run the course!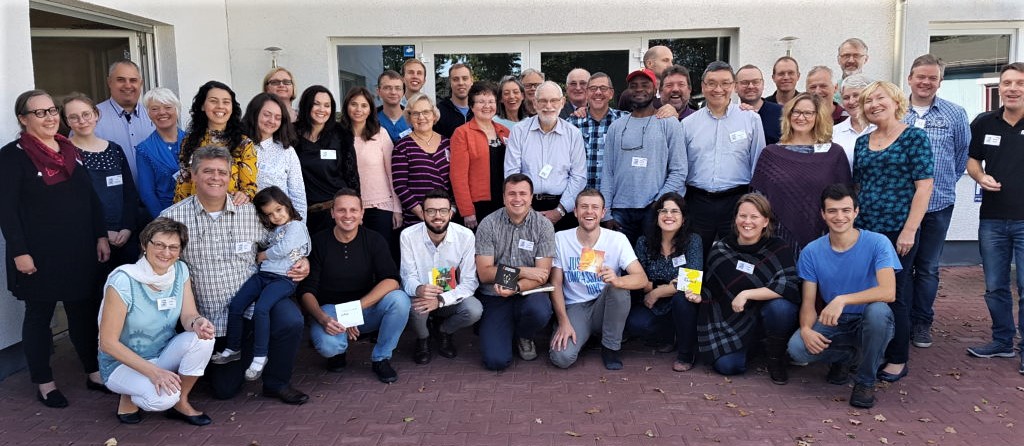 The Forum participants were reminded that now is a strategic time for Europe.
SM Europe – the Future
Several times through the weekend we were reminded that this is a strategic time for Europe.  We may be in an autumn season and days of turbulence but God is still at work and He is speaking of spring and fresh growth.
When asked what we would like to see take place as we move forward, these were some of the responses:
A bigger venue for our next SM Europe Gathering
Openness to explore options for contextualization
Facebook group or other e-platform to share prayer requests, thoughts and ideas
Fresh leadership from within the younger generation
Mobilization of all God's people taking root in all our churches
by Flora Davies