The Simply Mobilizing Europe Journey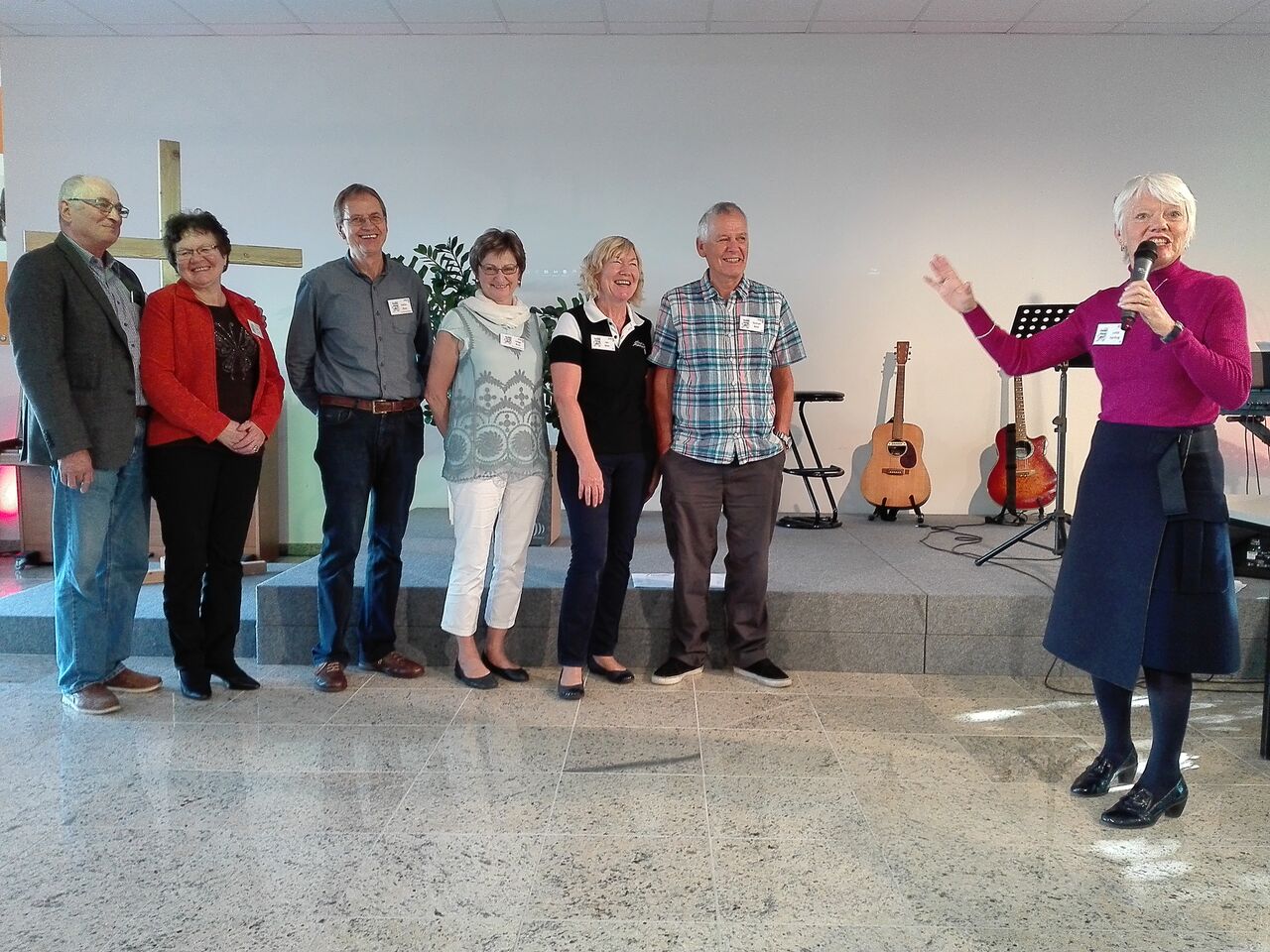 The Simply Mobilizing Europe Journey
The recently concluded 1st Simply Mobilizing (SM) Europe Global Forum proved to be both fruitful and inspiring. An interview with Europe's link person and adviser, Linda Harding, gives us the opportunity to know more about SM Europe's beginnings, growth and expansion, and  what lies ahead in their journey.
1. How did SM begin in Europe?
The dream of Simply Mobilizing began in Europe when I was in Butuan City in the Philippines for a month  in 2000. I came to study the 3 week World Mission Course at Living Springs International* because I wanted to see how the course had impacted Filipino believers to engage with their near neighbour Unreached People groups. (I heard about this when Ian Calo from LSI came to run the Condensed World Mission (CWMC)* course in Japan in 1999 where I was living as a missionary). During this month in Butuan City I had visions of the continent of Europe and all God's people in every country mobilised to reach out to all the Unreached Peoples in every city of Europe. I moved back to the UK and ran a pilot CWMC with selected church pastors, mission leaders, youth leaders. The impact was profound and from this original group of graduates Simply Mobilizing began in Europe.
*note:  SMI was then known as Living Springs International while the Kairos course was formerly called Condensed World Mission Course (CWMC).
2. What were some of the keys that helped in the growth and expansion of SM Europe?
Prayer was always the starting point. Asking God to give connections with those who had the desire to grow a movement not simply run a course. We had no strategy for growth, but SM grew through stories of transformed lives, and God used these stories to create a hunger for mobilisation and mission. The focus from the beginning was always to help churches to engage in cross cultural mission locally. It was never to recruit missionaries to go – although God did call many to leave their countries and go. Another key was finding those who understood the calling to mobilise, who lived out the values, were committed to good training, and were willing to give time. The growth was linked to the availability of a small group of mobilisers.
3. What were some of the highlights in its growth and expansion?
I was inspired by the biennial gatherings held in the Philippines for all the Kairos Facilitators, and so as early as 2004 we started meeting together as Kairos Europe group of leaders in Germany. These were amazing times of vision casting, sharing stories and prayer, and we saw the value of connecting across countries, and held some larger Kairos Europe gatherings. This was another key to growth as people from different nations worked together to introduce "simply mobilizing" into new nations. Another highlight was seeing the impact of Kairos on pastors and church leaders – hearing their testimonies of transformation and worldview change, and the significance of their endorsement of the mobilisation of all believers. In every country where pastors understand the aim of Kairos, there is growth and expansion.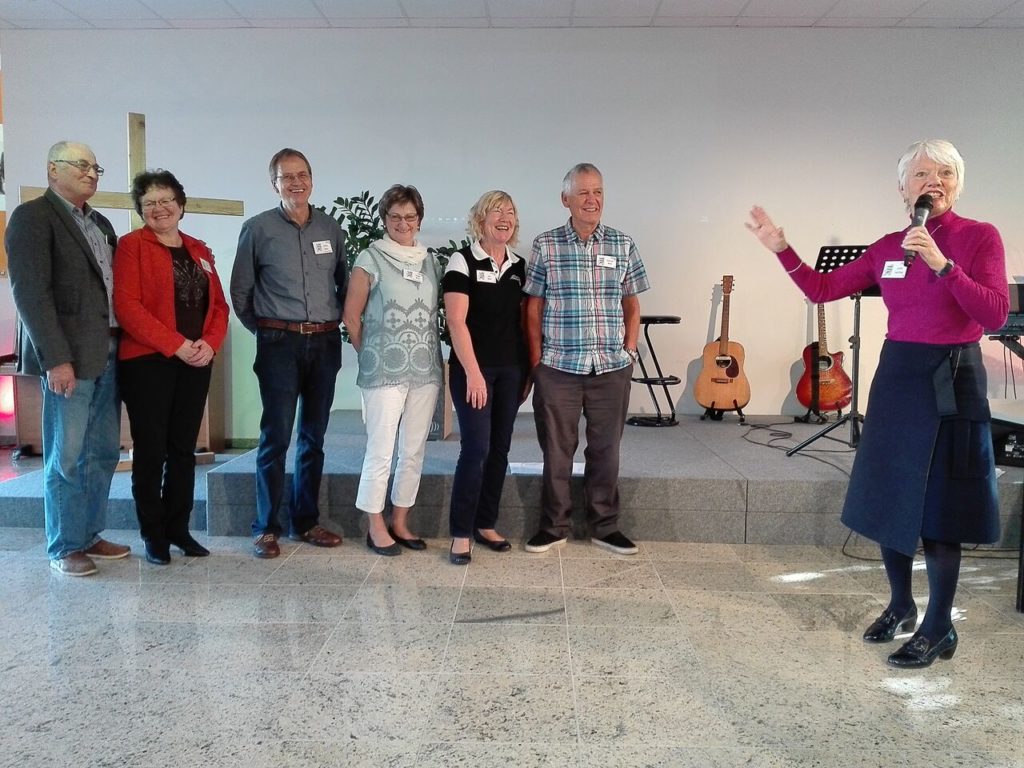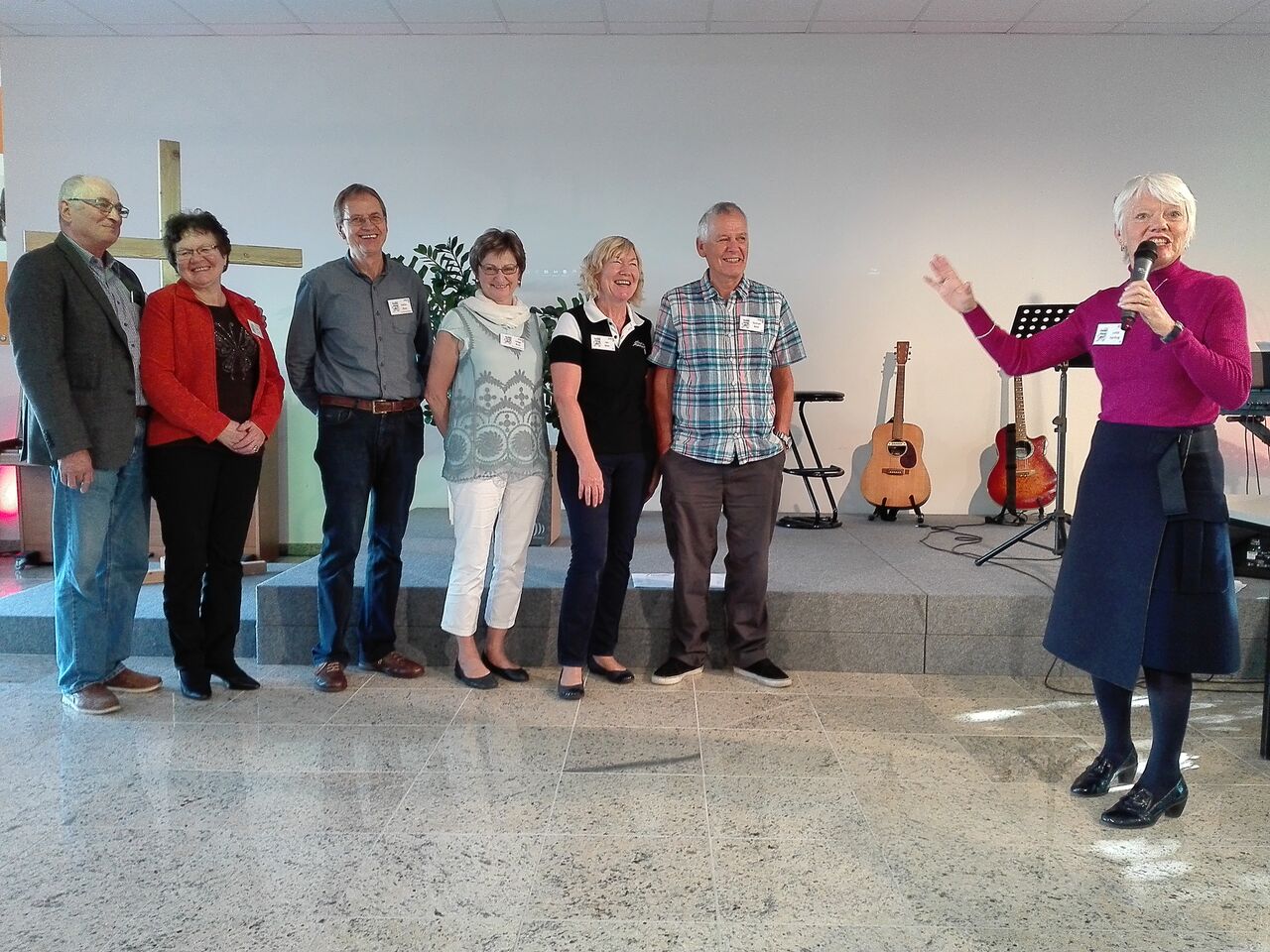 Linda with the older, pioneering SM mobilizers in Europe.
4. What were some of the challenges and how were they overcome?
I think the main challenge was when people thought the goal of Kairos was to recruit people for "overseas" mission. Of course this is a wonderful outcome but we found that when the only interest in Kairos was from mission agencies, this limited the growth of Kairos as a tool to mobilise all God's people for mission including local mission. This has been addressed in part by promoting Kairos as a discipleship tool and intentionally sharing stories of people engaged in near-neighbour mission. Another challenge has been the perception that the process of introducing Kairos is very difficult and very expensive – but we are committed to build slowly and build well – and this has paid off in most situations. A further challenge is that in some countries some of the best mobilisers have left their countries and gone to other parts of the world – thankfully in many situations as mobilisers! Or others have developed some God -inspired ministries among least reached peoples in their communities. Great fruit but it has left SM Europe with a very small team.
5. How significant was the recent Europe Global Forum in paving the way forward for SM Europe?
It felt like a very significant marker. More than 50% of those who attended had never been to any previous Europe gatherings, and 25% were under 30 years old. It was the Youth Kairos people who took a lead in asking for greater connection across Europe and for generations to serve together. There was enthusiasm for the SM vision and message, and probably a highlight was the response to a call for Mobilisers to take hold of the "mantle" for SM in Europe. We now wait to see how God leads but there was certainly a clear ownership of the call for mobilisation in Europe to reach all peoples in Europe.
6. What's ahead for SM Europe?
Several countries want to move forward with translating and piloting some of the new SM tools. We will plan for another SM Europe gathering in 1-2 years, and I wait to see who is willing and available to serve the growth of SM in Europe.